While I stared out the window on the train, I was quietly pondering that I never had time to visit Gotokuji even though I've been blessed by the Manekineko more than my fair share. The train had just arrived at Gotokuji station. I got off the train hastily and took an escalator from the 2nd floor of the station to the 1st floor exit. Exiting the station, I turned left toward the Gotokuji shopping street where a relaxed atmosphere waited the commuters. Walking along the street, my eye's caught Manekinekos in many locations.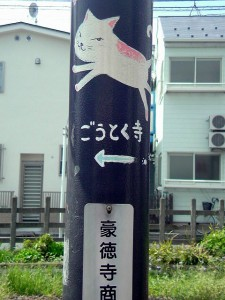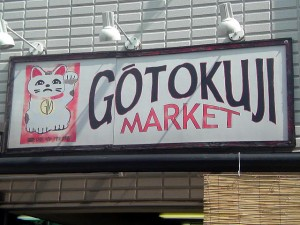 There are a lot of Manekineko potteries/ceramics and illustrations, such as on market signs, bank's bay windows, lamp posts, and more. Cool, this is a "Manekineko" town! I felt Manekineko was casually permeating throughout this town.
After a few minutes of walking the loop course around the temple, I've arrived at the entrance to the main gate where the cat used to sit inviting people in. As I approached the main gate, walking along the straight corridor, I was surrounded by the awesome sight of pine trees.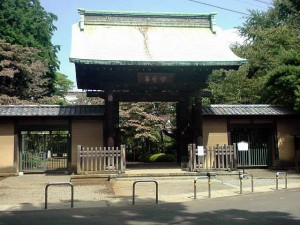 Entering the main gate, the three-storied pagoda jumps out at you, followed by the Buddhist sanctuary and the main hall. Each of these structures were built in different periods and has a unique respective mellow tone. Plus, there is a well-conditioned garden comprising the grounds of the shrine, creating a nostalgic feeling.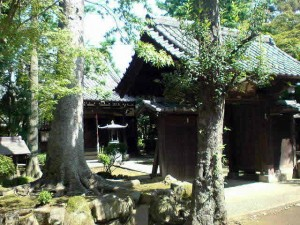 Going back to the left side of the sanctum, a secluded "Manekineko Dedication Stand" appears, where dozens of variously-sized Manekinekos are sitting quietly.
I bought this "Manekineko No. 2". Cute and somewhat valiant look!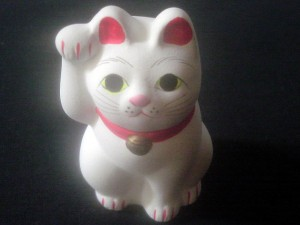 When I thought about visiting the temple, I expected to find a gaily amount of publicity for Manekinekos from the town, but my prediction was off the mark. As with the origin of Manekineko, townspeople humbly and carefully preserve "them." Excellent!
Cheers!