The main character in the Soseki Natsume's novel Botchan took a red western style tenugui whenever he went to a hot spring, which is why he was called aka-tenugui (red tenugui). This western-style tenugui should be a towel. Before towels began to be imported into Japan in the early Meiji era, Japanese people used tenugui, a plain woven cotton fabric almost equivalent in size to a face towel (35 x 90cm). The origin of tenugui goes back as far as the Heian period, when it was used for religious services, then afterwards in Edo period it began to be widely used among commoners.

People in Edo period used tenugui in many ways, for instance, washing and drying off their bodies at public baths, called sento in Japanese, and for wrapping things. They wore it around their necks or on their heads for protection against cold or dust. It was therefore natural that they enjoyed, as a fashion, putting many different colors or patterns on tenugui. To this day, designs created in the Edo period can often be seen, and they never become stale: rather, they are modern and urbane.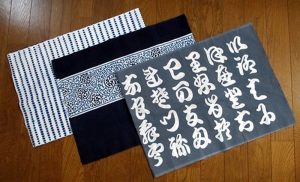 One remarkable feature of tenugui is that its edges are just cut, neither folded nor sewed. This is considered to reflect a past custom of selling tenugui in lengths per the customer's request. No seaming and no doubling results in quickness to dry, which is suitable for the humid Japanese climate.
For many years, my mother has been using several pieces of tenugui as dish cloths, cutting them in half. After drying washed dishes with them, she rinses and hangs them on a kitchen cloth bar, and then they dry by the time of the next meal. My husband always takes a tenugui with him whenever he hikes in mountains, saying that tenugui dries more quickly and is less bulky than towels.
With an affordable price and a variety of designs, tenugui are sure to be a good souvenir for foreign people. In the pictures, the pattern of blue serial dots on a white background is a traditional one called mame-shibori. The dots drawn with delicate bleeding and gradual changes in size are very charming to the eyes. The navy colored tenugui has a karakusa pattern, with roots in koimari (old imari, a kind of Japanese porcelain). It makes us feel the essence of Edo. On the gray tenugui is a Japanese "i-ro-ha" syllabary written in hentaigana (anomalous Japanese cursive style) for Kabuki.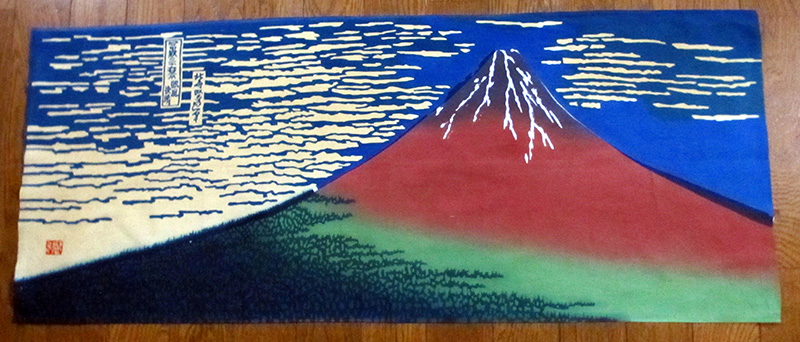 In addition to daily use, tenugui are also used for decoration. One of the ukiyoe by Hokusai Katsushika, the famous red Mr. Fuji, is drawn on a tenugui. Delicate gradations are finely realized by a dyeing technique called cyusen.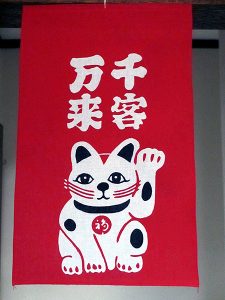 When looking around for tenugui in a shop, I found a lovely "manegi" dyed by the Japanese rien-zome technique. I would like to put this manegi fabric, thought to bring happiness (in other words, shoppers for a shop), in front of IROHA-DOU.
(tenugui and manegi in the pictures are made by Todaya Shouten).