On September 28th (Saturday) and 29th (Sunday), I visited the Maneki-neko Festival (Beckoning Cat and Lucky Cat Festival) held in Ise City, Mie Prefecture, where Ise Shrine is located. This is the 25th time this year!! It was 9.29 (September 29), which can be read as kuru-fuku in Japanese, which means happiness is coming.
On Saturday, I left my house around 8:30 am, took the Shinkansen in Shin-Yokohama, changed to Kintetsu at Nagoya Station, and arrived at Ise City Station at 12:36. About 5 minutes on foot from the station I entered the premises of the outer shrine, passed through the gate, and slowly walked around the worship course for almost an hour.
Oh, and I didn't forget to collect the goshuin my wife ordered – this red stamp is proof of your visit to each shrine.
I then entered the inner shrine. It was less than 5 km from the outer shrine, and there was a bus, but it was cloudy and the temperature was not so high, so I decided to walk. As I approached the inner shrine going up and down a hill, there was a "Sarutahiko Shrine" sign on the telephone pole, so I decided to stop in. When I sent a photo of the sign to my wife over LINE, a mobile graphical chat tool, she said, "Go there and get a red stamp!" This shrine is said to be "The great god of Michihiraki", that is, "The great god who first appears and leads you to the best of all things." It sounds very auspicious. It seems my wife already knew that. Of course I received a red stamp from this shrine as well.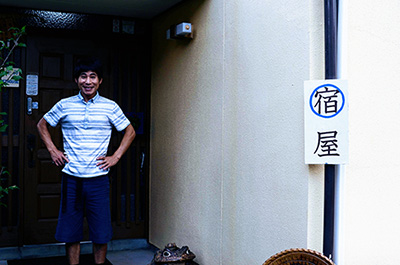 Now that "my duty" was completed, I was finally heading to Okage Yokocho (Thanks Street), the venue for the Maneki-Neko Festival. The entrance to Oharai-machi Dori (exorcise evil spirits town street) that led to Okage Yokocho is just beyond the eyes and nose. The inn's owner explained to me that "Oharai-machi" was named like this because in the Edo period visitors were supposed to exorcise evil spirits in this town before entering the shrine. Okage Yokocho was named with gratitude to God for being able to live in this way.
Naigu & Gegu Goshuins

Sarutahiko shrine's Goshuin
As I approached Ise City from Kintetsu Nagoya Station, signs were noticeable everywhere that say "Akafuku ("赤福" – Red Happiness)" in red letters on a white background, and I felt it is too much. I wanted to know why. Then I understood the situation (at least I felt that way).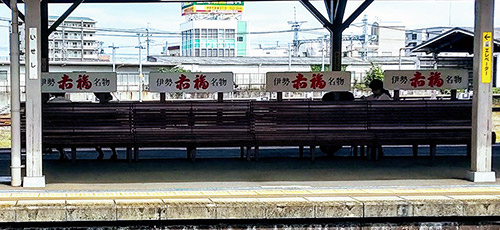 According to records from the Edo period, the number of visitors to Ise Jingu shrine who stopped at this Oharai town ranged from 2 to 4 million per year, but in the late 1970s, even though the number of visitors to the shrine reached 500,000, the number of visitors who stopped in Oharai town dropped to as low as 200,000.
The reason is that Ise-like buildings have almost disappeared due to modernization during the high growth period, and it has become less attractive as a tourist destination. It is said that Mr. Masutane HAMADA, the president of Akafuku, a long-established Japanese confectionery with a head office in this town, stood up with a sense of crisis. He led volunteers and formed a redevelopment committee in 1979, and started the regeneration of the traditional streets of Ise. Gradually, local governments began to understand the significance of the activities and cooperated, and the installation of underground electric wires and stone-paved roads were promoted, and the townscape close to the Edo period was restored. Since then, activities continued, and the town has been revitalized for about 10 years to date.
When he started this town development, President Hamada said, "Because of the times, with westernized things flooding in, Japanese hometowns are needed." A person who does this kind of thing thinks differently, doesn't he?
Continued.